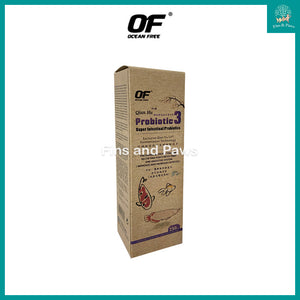 Highly Effective Aquarium Probiotic Bacteria.
A super intestinal probiotics developed by OF over many years, especially targeted for the intestines and digestive system of fish. It adopts the latest technology and special production process that requires to go through multip stages to be completed. It is unique and extraordinary effective. In addition to making good use of our own fish farms for in- depth and extensive field experiments, we also invite top fish farms in many regions to conduct experiments together to perfect the product. We now share this result with all the professional fish farms and hobbyists.
Four Major Functions:

1. Improve and increase fish appetite Rectify and regulate the fish's intestines to ensure that the fish's digestive system can function normally, and then gradually strengthen its intestines and enhance its digestion and absorption rate. The effect can be seen gradually after two weeks of applications.
2. Remove harmful bacteria in the intestines Effectively clean up harmful bacteria in the intestines and digestive system. This formulation contains a large number of superior probiotics strains. Once it enters the intestine after being ingested by fish, it will dominate the biological chain of the intestine within a short time, eliminating or driving away the other harmful bacteria in the intestine. The probiotics can be regarded as the guardian angel of the intestine. It is safe, effective, and minimizes the need of using other medications.
3. Effectively solve the case of "belly up and floating fish" ( imbalanced fish) caused by intestine and digestive system issues. Many fishes, especially goldfish and koi, often have problems with a certain part of the fish coming up to the water surface. Basically, the swim bladder has lost its function, and there is traditionally no cure for it. However, the research team of our company has found, after in-depth studies, most of these cases are caused by infection and inflammation of the intestines and digestive system. As long as the problem does not occur for too long, the use of this probiotic will make a great improvement, increasing the recovery rate and even cure the problem. There is no other product to date, that has similar functions and effects like this probiotic.
4. Improving Water Quality Although this probiotic is specially formulated for fish intestines, as it passes through via the fish excrement and enters the water, it also has the function of assisting in purifying the water quality. It is often found that the water quality will begin to improve after some time of usage.
Directions: Please shake well before use. Avoid storage in direct sunlight. Store in a cool and ventilated environment.
Important: This agent cannot be used with any antibiotics, sterilization and disinfecting potions or chemicals.