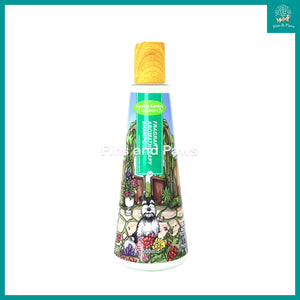 Has A Beautiful Irresistible Scent and Cleans Your Pet Perfectly
Natures Garden shampoo contains selected pigments and aromas for all dog types helping to highlight their vibrant colours and sheen. This product can aid in the repair and nourishments of damaged hair and follicles. Black and brown hair in particular will benefit from its use improving lustre.

Contains special pigments and fragrances for all dark coat dog breeds

Assists in highlighting your dog's dark, vibrant colours and shine

Can help repair and nourish damaged hair and follicles

Can be used on all dogs, however, black and brown hair dogs will benefit the most and improve coat lustre

Smells divine

Unique and extremely attractive bottle design makes grooming time fun

Recommended for
Brown and Black coated dogs
Ingredients: Deionized water, sodium alcohol ether sulfate, cocoamidopropyl betaine, glycerol, coconut diethanolamide, oatmeal extract, shea butter, chamomile extract, cactus extract, aloe leaf extract, wheat germ oil, cinnamon oil, clove oil, cedar oil, sodium chloride, vitamins A, B, D & E, citric acid, ethylenediaminetetraacetic acid disodium salt, DMDM hydantoin, perfume
Directions: Using warm water, apply desired amount of shampoo and gently massage into the skin and coat. Rinse well, and repeat if necessary.