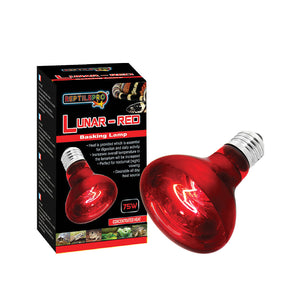 Nocturnal Basking Lamp for Reptiles
ReptilePro Lunar-Red Basking Lamp is a desirable all day heat source as the reddish light will not upset normal activity during day or night. The bulb discharges predominantly infrared heat waves and lamp's spot reflector focuses more heat into the enclosure with minimal losses to the exterior environment.
The bulb provides heat that reptiles require throughout the night and is perfect for nocturnal viewing as the red light is invisible to the reptiles and will not disrupt the normal day/night cycle. The red light will bring joy to the owner as they are able to get a good view of their reptile's habits. Due to cooler temperature at night and the absence of light, the infrared bulb are of lesser wattage than the daytime basking bulb.
Benefits and Features:
Heat is provided which is essential for digestion and daily activity
Increases overall temperature in the terrarium
Perfect for nocturnal (night) viewing
Desirable all day heat source
Product Dimension (LxWxH mm)
60 x 60 x 98 mm