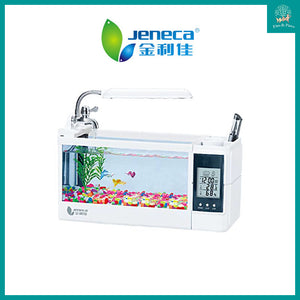 Complete with Filter and LED Light.
Suitable for Betta, and shrimps.

Note: Images are for illustration purposes only. Gravel, ornaments, decorations and fishes not included.

Features
Safe and reliable low voltage input

!

Energy saving LED lights
High efficiency bottom filtration unit
Doubles as a stationery holder.
Multi-Functional clock
White Color only
Specifications

Dimension (LxWxH) : 320 x 100 x 200mm
Volume : 2.5L
Lighting Type : 14 White Energy Saving LED
Energy Consumption : 3.5W Pump
Easy to Maintain
Bottom Filter which is included helps to maintain clean and clear water. Colored gravels included.
Carry out only 20% water change weekly or when necessary!
Remember to use anti-chlorine when using tap-water.