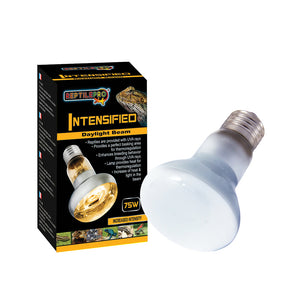 Basking Lamp for Reptiles
The Intensified Daylight Beam is specifically designed as a basking spot for reptiles. The compact beam can also be directed specifically on an area to form a basking spot. With an increase of heat and light in the beam, it creates a larger distance between the bulb and the basking site.
Through UVA radiation, it stimulates cellular growth, reproductive behaviour and appetite. It is recommended to combine with ReptilePro Lunar-Red for an all-day cycle.
Benefits and Features:
Increase of heat and light in the concentrated beam
Provides heat for thermoregulation
Mimics heat and light of the sun
Reptile are provided with UVA rays
Enhances breeding behaviour through UVA rays
Product Dimension (LxWxH mm)
60 x 60 x 98 mm