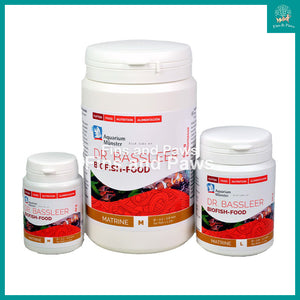 A Complete Food for Almost All Species of Aquarium Fish
DR. BASSLEER BIOFISH FOOD MATRINE contains the valuable alkaloids matrine and oxymatrine from the plant Sophora flavescens (Chinese: "Ku Shen"), promoting healthy fish. The mucous membrane of the skin is stimulated and leads to more protection. DR. BASSLEER BIOFISH FOOD MATRINE is a valuable component of the BASSLEER-ANTI-ICH-METHOD. It acts as a repellent and ensures that parasites such as Ichthyophthirius or Cryptocaryon will fall off from the fish and then floating freely in the aquarium can be better detected by a medicinal treatment.

Dr. Bassleer Biofish Food, is much richer in nutrients and more economical to use than many other ornamental fish food. Feed your fish no more than what all of them eat within a few minutes. Dr. Bassleer Biofish Food consists mainly of Scandinavian wild fish. It contains a high percentage of proteins (52%) and all the vitamins, trace elements and minerals fish need.
Available in 5 granular sizes that always sink
Baby (S)= 0.3mm (300 µm) (< 5cm)

M = 0.5mm (for fish 5 - 6 cm)

Lg = 1 mm (for fish 7 - 9 cm)

Xlg = 1.5mm (for fish 9 - 12cm)

XXlg = 3mm (for fish 12+cm)
Dr. Bassleer Biofish Food regular M, L, XL
Complete food for ornamental fish, reg. no. BE6237 

Feeding recommendation:
Restrict the quantity of feed to the amount ingested by all the fish in a few minutes.

Ingredients:
Fish and fish derivatives, cereals, crustaceans, derivatives of vegetable origin, yeast, Sophora flavescens 2 % (matrine/oxymatrine)

Additives:
Dietary physiological additives per kg: Vitamin A 7,500 IU, vitamin C 1,000 mg, vitamin D3 800 IU, vitamin E 400 mg, Astaxanthin 5 mg | Trace elements per kg: Zincsulfate monohydrate 110 mg, Manganesesulfate monohydrate 16 mg, Coppersulfate pentahydrate 2 mg, Iodate calcium 1.2 mg | Antioxidants | Zootechnical additives per kg: Probiotic Pediococcus acidilactici 3,000 CFU/mg

Analysis:
Crude protein 54 %, crude oils and fats 16 %, crude ash 10 %, crude fiber 6 %

Guaranteed free of artificial colors


| | |
| --- | --- |
| M Pellet | L Pellet |
| | |