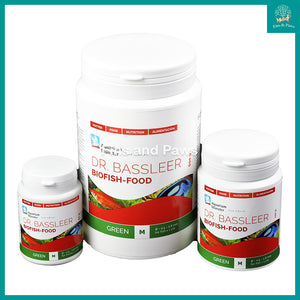 Granulated Food for Herbivore/Vegetable Nutrition Fish

Dr. Bassleer Biofish Food green is a granulated premium food for herbivore ("vegetable nutrition") ornamental fish. In addition to all important ingredients it contains 5 % grounded leaves of the "miracle tree" Moringa oleifera and 5 % of the valuable fresh water algae Chlorella pyrenoidosa. It is rich in carotenoids, antioxidants, essential unsaturated fatty acids, chlorophyll, vitamins and trace elements.

A perfect food for all your Malawi & Tanganyika Cichlids, Loricariidae, algae eaters, shrimp, Koi, also for livebearers!

Available in 5 granular sizes that always sink
Baby (S)= 0.3mm (300 µm) (< 5cm)

M = 0.5mm (for fish 5 - 6 cm)

Lg = 1 mm (for fish 7 - 9 cm)

Xlg = 1.5mm (for fish 9 - 12cm)

XXlg = 3mm (for fish 12+cm)

DR. BASSLEER BIOFISH FOOD GREEN M, L, XL
Complete food for ornamental fish, reg. no. PET6237

Composition: 
Cereals, fish and fish derivatives, derivatives of vegetable origin, Chlorella (5 %), Moringa oleifera (5 %), crustaceans, yeast, minerals

Additives: 
Dietary physiological additives per kg: Vitamin A 7,500 IE, Vitamin C 1,000 mg, Vitamin D3 800 IE, Vitamin E 400 mg, Astaxanthin 5 mg | Trace elements per kg: Zincsulfate monohydrate 110 mg, Manganesesulfate monohydrate 16 mg, Coppersulfate pentahydrate 2 mg, Iodate calcium 1.2 mg | Antioxidants | Zootechnical additives per kg: Probiotic Pediococcus acidilactici 3,000 CFU/mg

Ingredients: 
Crude protein 50 %, crude oils and fats 12 %, crude fiber 12 %, crude ash 10 %

Guaranteed free of artificial colors


| | |
| --- | --- |
| M Pellet | L Pellet |
| | |