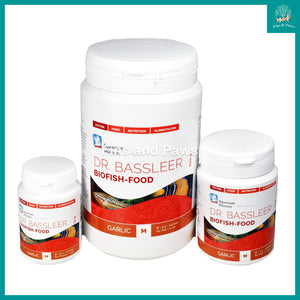 Helps Prevent Disease & Improves Appetite
Dr. Bassleer Biofish Food garlic contains natural garlic. It is also a popular food with ornamental fish which have contracted disease and often suffer from loss of appetite. Garlic contains the natural active agent allicin, a very high proportion of manganese and vitamin B6 and is a very rich source of trace elements (selenium, iodine germanium, etc.) and enzymes. To take care of the valuable ingredients, natural garlic is taken only (no granulate), which will be added after the granulation process to the food.

Dr. Bassleer Biofish Food, is much richer in nutrients and more economical to use than many other ornamental fish food. Feed your fish no more than what all of them eat within a few minutes. Dr. Bassleer Biofish Food consists mainly of Scandinavian wild fish. It contains a high percentage of proteins (52%) and all the vitamins, trace elements and minerals fish need.
Available in 5 granular sizes that always sink
Baby (S)= 0.3mm (300 µm) (< 5cm)

M = 0.5mm (for fish 5 - 6 cm)

Lg = 1 mm (for fish 7 - 9 cm)

Xlg = 1.5mm (for fish 9 - 12cm)

XXlg = 3mm (for fish 12+cm)

DR. BASSLEER BIOFISH FOOD GARLIC M, L, XL
Complete food for ornamental fish, reg. no. PET6237

Composition: Fish and fish derivatives, crustaceans, cereals, derivatives of vegetable origin, yeast, minerals, garlic (2 %)

Additives: Dietary physiological additives: Vitamin A 7500 IU, vitamin C 1,000 mg, vitamin D3 800 IU, vitamin E 400 mg, Astaxanthin 5 mg | Trace elements per kg: Zincsulfate monohydrate 110 mg, Manganesesulfate monohydrate 16 mg, Coppersulfate pentahydrate 2 mg, Iodate calcium 1.2 mg | Antioxidants | Zootechnical additives per kg: Probiotic Pediococcus acidilactici 3,000 CFU/mg

Ingredients: Crude protein 54 %, crude oils and fats 16 %, crude ash 10 %, crude fiber 6 %

Guaranteed free of artificial colors


| | |
| --- | --- |
| M Pellet | L Pellet |
| | |