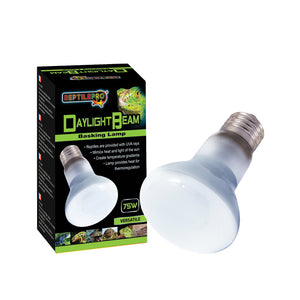 Provides Heat, Light and Temperature Gradients for Reptiles
ReptilePro Daylight Beam Basking Lamp restores natural daytime basking areas in one's reptile terrarium and also guides light and heat to create areas ideal for basking. ReptilePro basking lamps are extremely high performance lamps which provide UVA visible light, heat and UVB. It mimics the heat and light of sun comparable to what the reptile would bask in their natural environment.
The design of the basking lamp allows the reptile sufficient room to move into and out of the basking area, which aids in regulating its temperature. Though the basking lamp does emit a certain level of UV light, their main purpose is to create temperature gradients rather than providing lighting.
Benefits and Features:
Provides heat for thermoregulation
Mimics heat and light of the sun
Reptile are provided with UVA rays
Create temperature gradients
Product Dimension (LxWxH mm)
60 x 60 x 98 mm