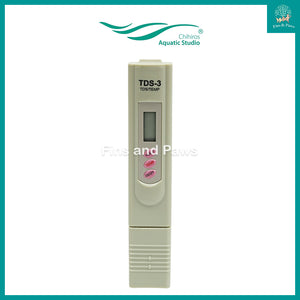 Measure Total Dissolved Solid for Aquarium.
Features:
Makes measurement of the Total Dissolved Solids and temperature in your aquarium.

Instructions:
Remove protective cap
Press ON/OFF button
Immerse the meter tip into the water up till it covers probe
Wait until the readings stabilise. Press Hold and remove the pen from the water.
After usage, clean the pen tip properly before covering it
Specifications:
Range: 0-999ppm

Battery: 2 x 1.5v (Button Cell). Batteries Included.

Accuracy will reduce in fast moving water and large volume of water.