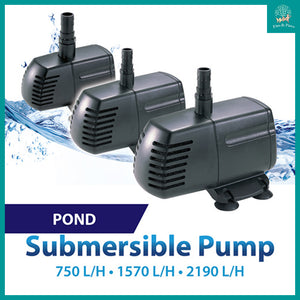 Multi-Purpose Pond Pump
The FP-Series Pond Pump is a powerful submersible water pump designed with energy-efficient features. It features current-surge protector and overheat auto-stop which helps to protect the device, increasing its durability. Suitable for ponds, freshwater and marine aquarium.



Features:
Quality ABS plastic coated body, durable construction.
The motor is sealed providing it with excellent waterproof qualities, increasing it's safety and reliability.
Current-surge protector and overheat autostop.
Multi-functional design providing good water circulation, movement of water to your filter and pumping of water.
Pump body is designed for easy disassembling and maintenance.
Technical Specifications:
| | | | | | |
| --- | --- | --- | --- | --- | --- |
| Model | Power | Max Flow | Head Max | Size | Cable Length |
| FP-1002 | 8W | 750 L/H | 1.00m | 144x103x155mm | 5.00m |
| FP-1005 | 40W | 1570 L/H | 1.64m | 169x110x171mm | 5.00m |
| FP-1008 | 100W | 2190 L/H | 3.09m | 211x127x194mm | 5.00m |